KOFURN 2023 Korea Furniture Fair – Are you looking for the best place to discover the latest trends and products in the furniture and interior industry? Do you want to meet and network with leading manufacturers, suppliers, designers, and buyers from Korea and abroad? If yes, then you should not miss KOFURN 2023, the Korea International Furniture & Interior Fair!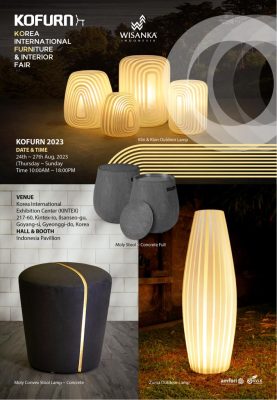 What is KOFURN?
KOFURN is an annual event that represents the present and future of the Korean furniture industry. The name KOFURN is an abbreviation for "Korea Furniture", which directly indicates the main themes of the fair. It is organized by the Korea Federation of Furniture Industry Cooperatives (KFFIC), a Korean furniture industry cooperative that aims to promote and develop the furniture market.
KOFURN has been held since 1981 in Seoul, and it is the largest and most influential furniture exhibition in Korea. It attracts more than 300 exhibitors and 50,000 visitors every year, making it a must-attend event for anyone involved or interested in the furniture business.
When and Where is KOFURN?
KOFURN 2023 will take place from August 24 to August 27 at the Korea International Exhibition Center (KINTEX) in Goyang-si, Gyeonggi-do, South Korea. KINTEX is a world-class convention and exhibition center that offers state-of-the-art facilities, services, and accessibility. It is located about 30 minutes away from Seoul by car or subway, and it is close to various attractions, hotels, restaurants, and shopping malls.
What Can You Expect at KOFURN 2023?
At KOFURN, you can expect to see a wide range of products and services related to furniture and interior design. You can find everything from wall and floor products, windows and doors products, blinds, lighting, indoor landscape architecture, floriculture decoration, indoor fountains, to interior related products.
You can also enjoy various events and programs that will enhance your experience at KOFURN. For example, you can participate in seminars, workshops, forums, awards ceremonies, design competitions, networking sessions, and more. You can also witness the latest innovations and technologies that will shape the future of the furniture industry.
We hope to see you soon at KOFURN 2023
If you are planning to visit KOFURN 2023, don't forget to stop by our hall and booth at Indonesia Pavillion. We are a company that specializes in rattan furniture and lighting Indonesia, such as home decoration, and various lighting. We have been in the business for over 20 years, and we have a reputation for quality, design, and service.
We will be bringing our best products that will showcase our craftsmanship and creativity. We will also be happy to answer any questions you may have about our products or our company. We look forward to meeting you at KOFURN 2023!