Making a minimalist garden to be beautiful is not easy
because a minimalist garden has a characteristic that does not use a lot of land or area to make it. Minimalist gardens often become a favorite garden concept from many people, besides it might be because the idea of ​​the garden concept is very easy applied by everyone, does not use costs that are too large, time and energy. Minimalist gardens can be entered in all types of homes, from homes that are minimalist or modern. Minimalist gardens are simple and do not use many ideas to make them but that does not mean This minimalist garden cannot be made beautiful, now we will make a minimalist garden beautiful by using these tips:
if your yard is narrow make a garden that is not symmetrical by providing a special corner for planting flowers, and maybe an artificial pond with ornamental fish. This pool can also be equipped with a small waterfall to give a quiet sound effect. It could be a mental satisfaction reflection for yourself, especially if you can look towards this minimalist garden while sitting on the terrace.
The front garden of the house can be fitted with a small gazebo as an ornament, and around it do not need to be given excessive landscape, but enough lawns, stone steps or walking paths from the house to the gazebo, and maybe some shrubs and small trees, so that it looks like land You can also plant flowering trees so that later there will be a little color in your yard.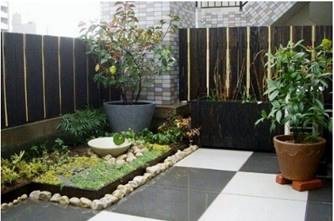 If you are the types of people who are smart, happy with cleanliness, neatness, and also simple maintenance, then this type of garden is very suitable for you.
Good luck and be creative with these light ideas.