Welcome to JIFFINA 2020 (Jogja International Furniture and Craft Fair). This event will feature Indonesia's best export furniture products, which will be held on March 14-17, 2020 at the Jogja Expo Center, Yogyakarta. Now at JIFFINA 2020 Yogyakarta you can find a variety of furniture products that highlight rattan, wooden furniture, outdoor furniture and unique decoration products at JIFFINA 2020 Yogyakarta.
JIFFINA 2020 is now recognized as a furniture & craft exhibition to be attended in Asia and that is part of the Asia Furniture Show circle in March every year!
Became the main event for the Indonesian furniture industry after the IFEX 2020 was postponed.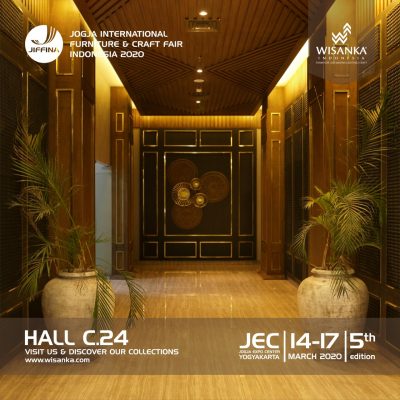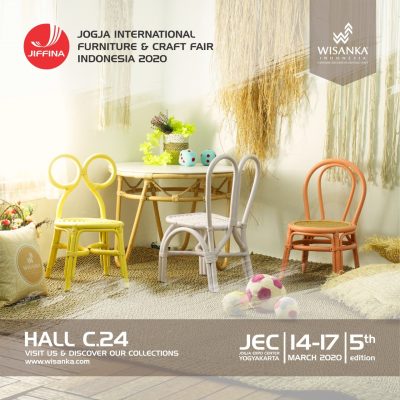 JIFFINA 2020 is Indonesia's stage towards the world, strongly supported by industry and government to facilitate furniture trade from Indonesia globally, by connecting Indonesian furniture and craft producers and exporters to thousands of trade buyers worldwide. JIFFINA 2020 boasts an industry with the largest range of specialty furniture and craft products, combining innovative designs and fine craftsmanship inspired by Indonesia's natural wealth. JIFFINA 2020 has become a real furniture market that serves the industry and opens business opportunities.
After IFEX 2020 is postponed, Wisanka as one of the leading furniture manufacturers in Indonesia will participate in the JIFFINA 2020 Yogyakarta event.
We therefore invite you to visit the Wisanka Indonesia booth at JIFFINA 2020 Yogyakarta in Hall C.024. We display the latest and best-selling furniture from Indonesian Contemporary and Modern Furniture, Indonesian Indoor Teak Furniture, Indonesian Outdoor Furniture, Mahogany Furniture, Rattan Furniture, Classical Furniture, Decorative Lighting, Handicrafts, Furniture Projects, Furniture Factories, Indonesia's largest and best-selling Factories in Indonesia Indonesia Furniture Suppliers.
Please contact us for more information about JIFFINA 2020 Yogyakarta. Thank you very much and see you there.
This is the Official Invitation of Wisanka.
We hope to see you there.
All the best,
WISANKA OUTDOOR | Manufacture of Indonesian Outdoor Furniture